Synopsis
In this musical, homeless New York City newsboy Jack "Cowboy" Kelly (Christian Bale) befriends two newcomers to his trade, brothers David (David Moscow) and Les Jacobs (Luke Edwards). When publisher Joseph Pulitzer (Robert Duvall) sets new rules that make it harder for the young newspaper salesmen to make a buck, the boys go on strike. Bryan Denton (Bill Pullman), a journalist who's sympathetic to their plight, gives them some tips in public relations, as the newsboys' battle grips the city.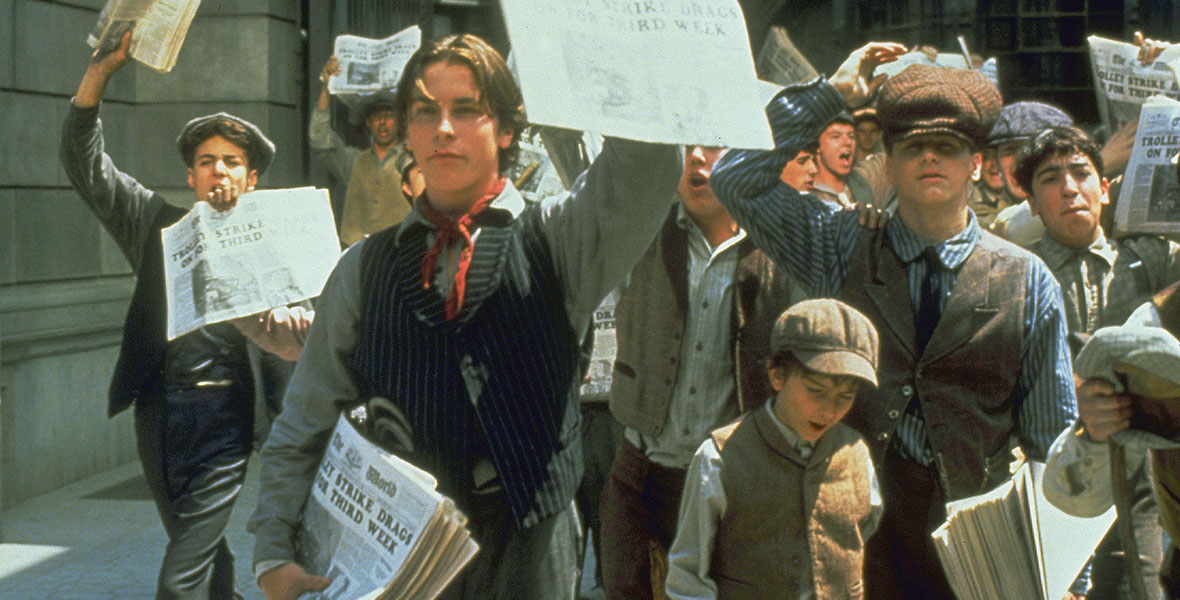 Release date: April 10, 1992
Screenplay: Noni White, Bob Tzudiker
Music composed by: Alan Menken, J. A. C. Redford
My Review
This is a very lighthearted and enjoyable film. The actors of the movie all do such an incredible job, and it's easy to buy into the world of the movie. I'm sure watching this production onstage or on Broadway would be a more enjoyable experience, but the movie is a close second.
For a Disney film, I was surprised by the amount of violence and ideas the film suggested. There are several times in the movie when the Newsies get a little rouged up on the streets of New York. However, the newsie strike is a historical event that led to lots of riots and rough housing, so I appreciated the historical accuracy of this movie. This is definitely an emotionally heavy film that will make you frustrated.
I was most curious to see Christian Bale in this film because I have never seen him sing and dance. I've seen him in a wide range of acting roles, and I wanted to see how he would live up to the hype. He is definitely not the best singer. But his dancing blew me away. In fact, all the dance numbers of this film are incredibly well filmed and choreographed. From an acting stand point Bale carried most of the weight. Bale plays the hero and protagonist of the film, and I found myself emotionally invested in his story from the very beginning.
Sometimes in this movie when the plot felt rushed, and my investment into the story lessened a little each time. I also wish there would have been more character development for the kids. There's so much development giving to Bales character that all the others are pushed to the side. Another thing that drove me crazy about this movie was the forced relationship between Bale and his love interest. The audience saw no interaction between the two at all, and then the first scene we see between them Bale asks if she would miss him if he were to leave. This made no sense to me! Their relationship came out of nowhere and was completely forced since the filmmakers were trying to stick to the Broadway plot line.
My Rating
2 out of 5